The Holidays are here! And it's time to decorate with all the sights, scents and sounds that decorating your homes indoors or outdoors can bring for enjoyment. That enjoyment can last a long time for you, your family, and friends to see and smell. Yes, I said to "smell".
Whether you decorate with artificial holiday decor and just add adornments such as scented candles, dehydrated citrus fruits, etc. Or you enjoy stopping at your local tree farms for a pine scented fresh wreath or even putting together a fresh wreath of ever greens from your own backyard or found in your woods, those are the ones you truly enjoy smelling and enjoying their real natural beauty.
But not everyone is blessed to live in a State where those evergreen tree choices are plentiful or available. Nor, does every State or your part of the country, city or town area offer tree farms or the means in location to buy fresh made wreaths.
We live in the beautiful State of eastern TN where we are plentiful with different types of pine trees, or cedar trees. Yet the closest states near us of Virginia and Kentucky, have totally different evergreen type trees that we never see or have available in our region. The same fact holds true for other States located up farther up north.
God knew what he was doing when he spread all the beautiful creations he made in Nature, throughout all the different States, for us all to enjoy.
There are so many other States in the USA that I hope to visit someday. We traveled allot in our 20 years in the Navy, but most of the far northern States, we never got to travel or see.
So thank goodness for on-line shopping when it comes to the Holidays and trying to choose the unique gifts for others or for spoiling ourselves.
With the Holidays just around the corner, I wanted to let you know where you can easily shop
on-line and right from the comfort and convenience of your own home. And when your done with a simple CLICK of your computer mouse or a phone call to the companies business ordering number, that just in a few short days, you will be able to enjoy a fresh evergreen wreath that was hand made with noting but attention to detail, using those unique evergreen trees that come straight from a northern state that God granted all his beauty in with the gorgeous visual and scented trees, you will ever experience.
So let me now take you to that on-line unique place of
+Christmas Forest
where they reside (for real) in the location of the
Curtis, Washington
The kind folks at
Christmas Forest
(web site)
http://www.christmasforest.com
Offers you the MOST Beautifully Fresh Made Evergreen
Wreaths
in lush visual and naturally scented #wreaths that are created by hand in the
Cascade Mountains of Curtis, Washington
Christmas Forest
About the
Owners
of Christmas Forest :
Rick and Ramona Holt sold their first Christmas wreath at Pike Place Farmer's Market in Seattle in 1976. Rick was working in construction and Ramona was a piano teacher at the time. Looking for extra Christmas money to buy Christmas gifts, they harvested cedar boughs to sell to a local nursery. When the owner of the nursery said that he didn't need the branches after all, the Holts decided to try their hand at making and selling wreaths so the boughs would not be wasted. They worked all night making wreaths and the next morning they sold their first Christmas wreath in Seattle, Washington. That was 38 years ago and now the wreaths of Christmas Forest have decorated thousands of doors around the world.
As a family owned business, the Holts and their three grown children take pride in excellent workmanship and in superb customer service: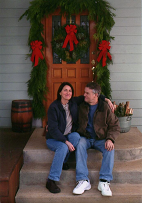 "We know that you and your family and business count on us every year to deliver the freshest and most gorgeous wreaths in the world. If you are looking for a reliable source for all of your Christmas gifts, you know you can count on our experience and our guarantee to deliver the most beautiful forest fresh wreaths you have ever seen. It is our mission to thrill our customers and their gift recipients with exquisite wreaths while impressing them with our unsurpassed service. We are also committed to respecting our employees with fairness and opportunity and this is evidenced by employee loyalty. At the same time, we pledge to honor mother earth with responsible forest care and do everything possible to promote a green environment. Your orders are always appreciated and we know that you will be pleased with your Christmas Forest wreath."
Rick and Ramona
At the Christmas Forest
This lovely
Cross Wreath
makes me think of Baby Jesus as he lay in the manger. And the true meaning of Christmas.
Share your faith, hope and love for Christmas with this exquisite hand-crafted creation. Our devoted artisans skillfully weave aromatic noble fir, princess pine and Lodge pole cones together to create a stirring iconic symbol of faith as enduring and beautiful as the season
itself.
There are many more wreath choices at
+Christmas Forest
such as swags, happy Hanukah, and garland.
When able to choose my liking in the fresh hand made wreath I was able to review from
Oh...if only you could smell this wonderfully FRESH Hand made created wreath with it's rich
aroma of Noble Fir and Princess Pine, juniper and incense berries and then g
gorgeous Ponderosa pine cones.
We have pine cones here in TN but they are jack pines or hemlock pine cones and not like these
pine-cones
.
The combination in this fresh wreath evergreen recipe is just splendid in scent, visual beauty and even soft to touch on the greenery.
The fresh wreath from Christmas Forest ~arrived so fast and they ship FREE to All 48 States via UPS Ground
It arrived in a very sturdy box, enclosed in clear plastic to SAVOR that heavenly aroma scent it provides in the freshest greenery.
The bow that came with the particular wreath I chose was also
protected in its on clear bag. You can tell the attention to detail that was
carefully made as they used the very sturdy wire based frame that houses each piece of greenery used. Nothings falling off of this tight fit and full body fresh made wreath.
The mixture of colors in greenery used is just GORGEOUS!!
The scent is even more gorgeous!!
The juniper berries are so pretty and smell so nice.
First time for everything and that's the first time I had seen or smelled juniper berries.
I wanted to hurry and get this review post up for you all to see just how lush and lovely these fresh made wreaths are coming from those Cascade Mountains distraught from Curtis Washington and from this great business of Christmas Forest.
It's truly something unique for those of us in the states where certain types of evergreen trees are not seen or enjoyed.
And I chose this design of Santa's Favorite Wreath because I'm going to let it be my focal point to my Holiday design this year for my back-porch.And even when this giveaway ends, I will be back as the Holidays near for Christmas and share my decorated photos with you in how I will create my theme and this oh so gorgeous wreath to in the center of it. I felt it hang wonderfully because of the sturdy wire base used to construct it. I just used my wreath hanger to hold it from it's green metal oval wire. Adding it to my shutter over my porch window. I love it!! So festive and pretty and smells amazing!! You also receive a folded pocket card from the company thanking you for your purchase. It suggest if need be to spritz the fresh wreath with water ever so often. But I have had mine in the same spot for days now and not had to even do that as yet, and no needles are shedding. It's just breath taking and there's no other way to describe them.
But for now I just had to show you the close up of this beautiful creation that only the hard working team of Christmas Forest can make for you to enjoy in fresh made wreaths.
So please don't miss out on letting one show up with free shipping to your door to adorn your homes door, window, office space, anywhere you want to see, smell and even touch to enjoy the freshest hand crafted wreaths for the holidays. They will cheer up, brighten up, and wake up your decorated holidays for certain!
They also offer really pretty ornaments for you at great prices with the Christmas
Forest
You'll definitely want to see this big cheerful holiday box arrive with free shipping to your door this holiday season.
Because inside it, a gorgeous fresh hand created wreath was made in the design you chose, from all these fresh evergreen trees and garland.
So now!! Who is ready to have your choice in pick from this awesome Fresh Wreath Company and have a gorgeous hand crafted fresh wreath from Christmas Forest~ Sent to you free if your lucky name is pulled from the total of entries placed within the giveaway Tools below???
Awesome! Good Luck Everyone!!
Enter below through the forum.
God Bless you each & have a wonderful Thanksgiving, Christmas and New Years Holiday!
I will email the lucky USA winner when this sponsored giveaway ends on Nov 30th and that lucky person will have 24 hrs to claim your prize or another name gets chosen.
~Julie
A huge Thank You goes out to my sponsor Christmas Forest for this reviewed post and giveaway :)
My Disclose: Via Blogger FTC Guidelines
This is a free sponsored post and information and free giveaway prize provided by Christmas Forest .
No compensation was provided to facilitate this shared promotional post. I received a free product wreath of choice to facilitate this shared post. All opinions spoken here are 100% my own and not influenced in anyway by others. Affiliated links may be within this sponsored post. One lucky #USA person will win the above mentioned item from a random drawing from all entries placed within the giveaway tools forum. The free sponsored Christmas Forest winning
prize will be sent via Ground free shipping By the sponsor. No P.O. Boxes please & allow up to 3 wks to receive free said winning prize. I will contact the winning name drawn by the email address you use most often and winner will have 24 hrs to claim your free win by providing the address to where you would like the free winning prize shipped. Other wise you forfeit said prize and another name will be drawn. So check your email inbox or spam folder to see if you won on the dates this giveaway will end. I am not responsible for prize fulfillment. Thank you to the sponsor & my readers for stopping by and entering this great giveaway. Happy Holidays ~ From Julie your hostess here @Mamawj's Moment Away