And ending May 7th 2014
Let's be honest, Mom's deserve to be shown appreciation anytime & not Just on Mother's Day.
It's getting down to the wire for her one special celebration day of May 11th.
But you can still order many lovely things she would enjoy even if they were gifted to her afterwards.
So, If you are hoping to find a place on line, a company that you can bookmark and be assured to order all occasional gift ideas that cover categories from choices of sweet, meaty, salty, baked, chewy, crunchy, creamy, spicy, chocolaty, fruity, party theme based, Have I missed any?
I don't think so. Because I can find all of those choices and more at
The Swiss Colony
And they can tell you the same thing I already concluded but say it even better
At
The Swiss Colony
As they say:
No matter what the occasion, The Swiss Colony offers a wide variety of treats to make it a celebration! Winter, spring, summer or fall - from ham to cheese to petit fours to truffles - you'll find the best right here.
And let's be honest as well, in saying that Mom is usually the one who plans all the parties, occasions, celebrations that the kids, grandparents, etc have throughout the year.
So why not make it easy on her & let her choose from the on line store that can let her creative juices flow for party planning ideas. Because every party or celebration is best enjoyed & always includes mouth watering foods to enjoy. It's the main feature and everything else is built around it.
And a great place to find & buy that food inspiration is at
The Swiss Colony
You can find out for yourself in full page colorful photo's with detailed descriptions of these yummy products by requesting a free catalog from this unique company of
The Swiss Colony
. Just click
HERE
and fill out the form so they know where to send you one free, straight to your mail box.
Then, take you time and browse it as I do while I'm in the park, my outdoor lawn chair, on the couch, in the school car pickup line, the beauty salon, anywhere. And I'm sure you'll soon be thinking wow!
Look at those way cool Chocolate
Meltaway Wacky Bugs
~ those would be perfect for my son's birthday party as the center piece in his outdoor safari theme party! In which you could easily use other items in the tables center piece to ac as your theme decoration while gifting the goodies to the son later.
Picture this party theme idea
that would feature your unique party delight food in designing around
the way cool Chocolate
Meltaway Wacky Bugs
:found at
The Swiss Colony
Take some..........
Green construction paper cut out in green leaf shapes of different sizes, that had all the kids invited names on them. Crunch up the leafs to look realistic & scatter them about the tables center section.
Then add these way cool Chocolate
Meltaway Wacky Bugs
on those cut out leaf shapes.
Add some cool $1 toys found at your local dollar saving stores like Bug Kits, butterfly nets, plastic bug toys, plastic binoculars etc.
And when the party is over & the kids have ate their Swiss Colony yummy way cool Chocolate
Meltaway Wacky Bugs
then you hand out the tables center piece toys to each kid and let them go outside to play with there fun party favors that captured there attention and curiosity that made your center piece so fun. And if your thinking well, I want a cake for his celebration. No problem, just order one of the many choices found from
The Swiss Colony.com
Boy's would love this
red-velvet-layer-cake
& you could place those Chocolate
Meltaway Wacky Bugs
all around its outer circle while laying them on those green construction paper named leafs I mentioned above. I can see this cake enjoyed for many different occasions such as weddings, church events, summer grill outs & family picnics.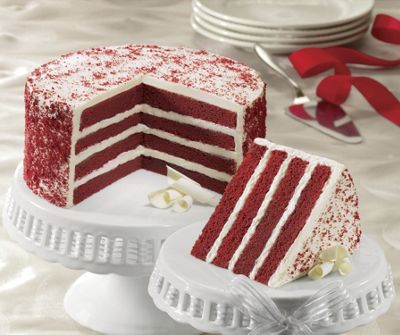 Wouldn't this be adorable for a girls party? To use it as the tables center piece & gift to her?
Lady-Pup-With-Chocolates from The Swiss Colony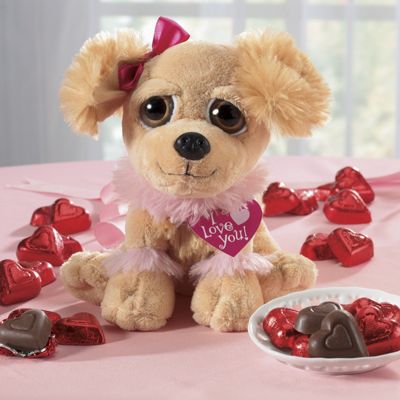 So many choices to use as gift giving ideas for anyones personality.
And at my request & choice, I was sent the below item for review
From
In the
Spring-Flower-Tower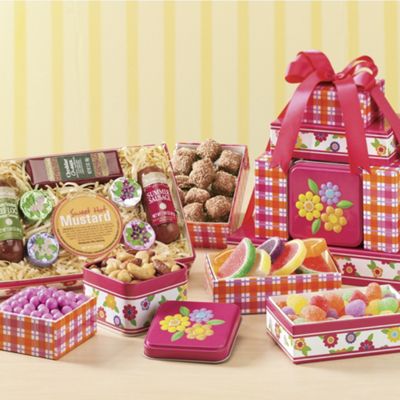 Item Description Via www.swisscolony.com
Smiles will be as radiant as the flowers of these containers when the lids are lifted.
It arrives in the green striped Swiss Colony printed box.
My thoughts were that the smaller collection of coordinated colorful cardboard boxes and 1 tin(the one on the top in my photo) the boxes housed a mixture of sweets, mixed nuts, meats cheeses were packaged cute & tasted fresh.
I plan on gifting a few on them to someone special in a gift bag. Though the collection of this smaller spring themed tower of tasty delights would be fun to give as is, in the pretty bow that has it all stacked up into its quaint tower presentation.
A peek inside (and each snack choice is within closed clear sealed bags)
I like to enjoy things that can be reused. And these cute boxes & 1 tin within the total 10 inch high stacked Spring Flower Tower will make me cute boxes to store buttons, jewelry, little sewing kits etc. when the treats inside have been enjoyed.
So be sure to visit
www.swisscolony.com
and see what unique items catch your eye to treat your taste pallet or gift giving ideas enjoyed.
If you have followed both
Tracy the blog hostess @ cottonpickincute
& I this whole week long then you know today ends our last day of our teamed efforts to bring you our
2014 Companies Introduction for our
mothers-day-gift-guide-giveaway Event
.
So you'd know where lovely & unique gifts can be found for purchasing. These are wonderful companies that allow you to shop on line or through catalog orders with great perks like
Choose 'N Charge Credit
Enjoy Stress-Free Shopping with
CHOOSE 'N CHARGE CREDIT
Budget-Friendly Benefits Include:
Low monthly payments starting at $20 a month
No annual fees
Credit line increases
Secure and confidential account management
So let's all say a cheerful thank you to today's 7th sponsored Company of
The Swiss Colony
And their kindness to allow Tracy & I to review separately two of their wonderful products they offer. And for allowing us the enjoyment of surprising you our faithful readers, with great prizes to enter for the chances to win. Many of those prizes differ from what I reviewed to those that Tracy reviewed, yet some are the same. So why not enter below for your chance to win these great prizes? You will find the giveaway forum below to enter for the chance to win your choice from
The Swiss Colony
in either the review item I was able to enjoy in the
Spring-Flower-Tower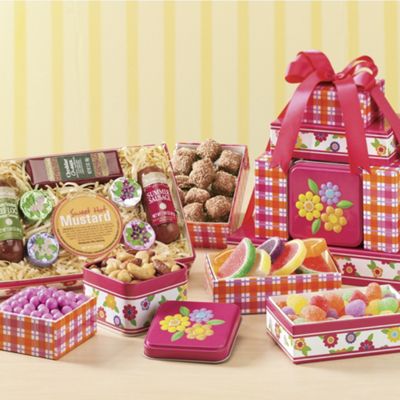 Or the surprise item that I'm not going to spoil in letting Tracy show you herself in which she reviewed found HERE so after you enter below, then head to her blog where you can see her review item & if your chosen as the ONE (1) #USA Winner to receive this sponsored free giveaway "Then you will get to choose which item you want to enjoy yourself from the two we reviewed".
Note* items maybe subject to availability in such case winning prize will be chosen by the sponsor.
These are the day 1 through day now 7 prizes you can have the chance to win if you enter.
All of the giveaways will end on May 7th & we will notify the winning names chosen. You might win more than one giveaway so don't sit there just day dreaming about them~ go put your awesome self in the entry forums so you might win ~friend :) Good Luck!!
Day 1 Event was the sponsored company of Toilet Tree Products
Tracy is giving away a Skin Care System While I am giving away a Shower Dispenser
Day 2 Event was the sponsored company of
Tropical Traditions
Where Tracy & I BOTH get to giveaway this product of the Virgin Coconut Oil so visit us BOTH for chances to win that product
Day 3 Event was the sponsored company of
Montagne Jeunesse Face Mask And Again...We both get to giveaway a sachet bag with 5 facial treats inside. So visit us BOTH and double your chances of winning both!
Day 4 Event was the sponsored company of
Light-n-go-bonfire
One Winner on this
cool yet
hot item but visit both blogs for extra entries in to the giveaway! This way cool item lets you enjoy a bonfire for 5 hrs of burn & you can roast hot dogs or marshmallows right over the item :)
Day 5 Event was the sponsored company of
kerusso.com
and ONE Winner gets to choose from these choices below for a
Kerusso Christian T-Shirt & Travel Mug that Tracy & I reviewed separately
Day 6 Event Flowers! Fresh Flowers! was from the sponsored company of
TheBouqs.com
where Tracy & I got to choose a $40 Valued Fresh Cut Flower Bouq in our choosing from the Volcano Collection (Why volcano? Because that is where they are grown on farm land grounds on the side of an active volcano in South America sent fresh cut in 6 days not stored in warehouses for weeks, So you enjoy beautiful choices.
I chose the Desperado Bouq & Tracy Chose the Cotton Candy Bouq from the Volcano Collection offered for review at
TheBouqs.com
But guess what? One Winner gets to choose what bouq they like in the Volcano Collection & theres over 40 bouqs to choose from so you best get your entry in for that on our blogs where we teamed up for one lucky person to enjoy it free!
Cotton Candy Bouq Desperado Bouq
Which brings us back to the last ending day of Event Day #7 where you best get your entry in below to win which ever prize you would choose if you won our teamed up efforts with
The Swiss Colony
sponsored
Giveaway found below! But remember? You don't know if you'd choose what I reviewed or Tracy reviewed unless you go peak at what it was found
Here
then be sure to enter & let us know which one your hoping to win if its your name thats chosen on May 7th. Happy Mothers Day Everyone!
Me & Tracy hope you are blessed with a day of love & more!
Disclosure: Today's introduction review post & giveaway is sponsored free by
The Swiss Colony
who provided flowers to facilitate this blog host and free giveaway for one reader to enjoy. No compensation was provided And As always all opinions are 100% my own.
Stay Connected with
The Swiss Colony
on
facebook twitter.com pinterest & more found here